Philanthropy Supports Supervisor Lawson-Remer's Focus on Homelessness Diversion, Provides Funds
Description
Supervisor Terra Lawson Remer, along with major philanthropic organizations and service providers, touted the success of Homelessness Diversion practices, ahead of a vote by the San Diego County Board of Supervisors on Tuesday to contribute $350,000 to provide a total of $1,000,000 to the Regional Task Force on Homelessness for Diversion.
This practice used by homeless service providers has kept 2,000 people in San Diego from becoming permanently homeless since 2019, and the new funding will help an estimated 600 households, totaling 800 individuals. Link to policy being voted on Tuesday.
"Catching a person before they fall into chronic homelessness is what Diversion does," said Supervisor Lawson-Remer. "When I learned about the level of success providers were having getting people rehoused using a nominal amount of money, I was determined to make the Diversion practice more readily available in San Diego County. I appreciate each and every individual and organization whose generosity is making this possible, and we hope my colleagues on the Board of Supervisors agree it is a wise investment."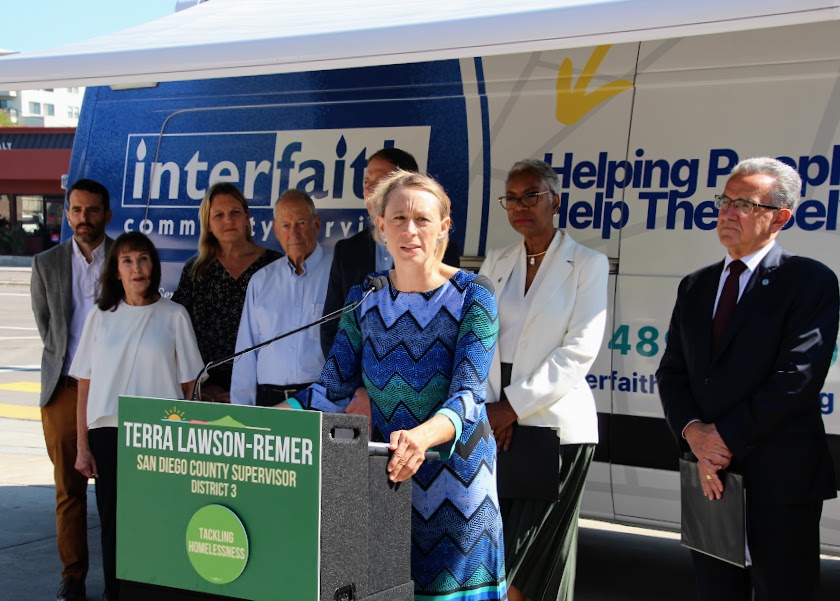 Diversion helps steer people who recently became homeless (usually within the first month) from a shelter or living on the street because providers who are specially trained on Diversion engagement know how to ask the right questions about if a person needs family reunification, diverting temporarily as new housing is sustained, and/or relocating permanently to a safe place out of town. They also can connect them with short-term financial assistance – utility deposit, car repair, application fee, security deposit – to get them quickly rehoused
"Diversion is worth the investment," said Stephen Cushman, Founder of the Cushman Foundation, and Chair of the Committee on Downtown Homelessness for the San Diego Downtown Partnership. "Keeping people from falling into sustained homelessness, and quickly getting them into stable housing is what we all want for them. This proven practice of diverting people away from homelessness is something everyone should get behind. I appreciate Supervisor Terra Lawson-Remer for bringing us together to support Diversion." 
A 2018 Gates Foundation Study concluded Diversion practices are faster, more effective, less costly, and require less government support than interventions like an emergency shelter. 
"San Diego Foundation is committed to helping San Diegans most at risk of chronic homelessness and poverty when unplanned financial burdens occur," said Mark Stuart, President and CEO of San Diego Foundation. "This program will keep San Diegans out of shelters and in their homes, and will keep their families healthy and their careers stable."
The Regional Task Force on Homelessness has determined about 85% of people who are engaged using Diversion practices remain in stable housing.
"Supervisor Lawson-Remer has made addressing homelessness a top priority. She's a champion of our homeless Diversion practice and her efforts to support it allow us to keep more people from becoming chronically homeless," said Tamera Kohler, Chief Executive Officer, Regional Task Force on Homelessness. "She has also worked to expand shelters and affordable housing, increase the availability of mental health and addiction treatment. Supervisor Lawson-Remer is making a difference." 
The Regional Task Force on Homelessness annually contributes $300,000 to Diversion, and has found that on average, $1,500 in one-time flexible funding helps to keep people housed. The extra $1,000,000 is expected to keep about 600 households, total 800 people from prolonged homelessness. This represents a potential regional public cost savings of over $8 million in emergency sheltering costs (800 beds * $60 per bed per night * 169 nights average length of homelessness).
Six different philanthropic entities, including The Lucky Duck Foundation with a $100,000 contribution, are helping to expand the capacity of Diversion practices in San Diego County.
"The Lucky Duck Foundation is pleased to support this diversion effort given the cost effectiveness, speed and urgency at which homelessness will be resolved for a meaningful number of people. A nominal investment to help an individual avoid homelessness is significantly more humane and cost effective than ending up on the streets," said Drew Moser, Executive Director, The Lucky Duck Foundation. 
Other contributors include Jewish Community Foundation, The Conrad Prebys Foundation, Funders Together to End Homelessness; and the City of San Diego.
"Prebys Foundation supports this evidence-based effort to keep more San Diegans from falling into chronic homelessness and encourages our regional leadership to help those needing a place and the means to live safely," said Grant Oliphant, CEO, The Prebys Foundation. 
"Often just a few hundred dollars is all someone needs to stay in their home and avoid becoming homeless," said Amy Denhart, Director, Funders Together to End Homelessness San Diego. "The Regional Task Force on Homelessness' Diversion Fund provides these small, flexible payments and has been very successful at preventing people's homelessness. We thank Supervisor Lawson-Remer for her leadership in expanding this important fund and are pleased to contribute to the fund."
"Our homelessness crisis requires a collaborative approach that meets the immediate needs of individuals and families we are serving," said Councilmember Joe LaCava.  "Supervisor Lawson-Remer's diversion program aligns with the City of San Diego's comprehensive strategy, initiated by Mayor Todd Gloria and the City Council. The Supervisor's program will maximize the impact of our efforts to identify individuals early on and connect them to the service and shelter resources within our countywide pipeline, leading them towards permanent housing."
"The reality is that people are falling into homelessness faster than we can get them housed," Mayor Todd Gloria said. "The City of San Diego is proud to be among those funding this initiative led by Supervisor Lawson-Remer to help at-risk people stay in their homes, which is a key part of our  regional effort to address this crisis from every angle."  
The complete list of funders with dollar amounts is as follows: 
County of San Diego - $350,000 + $150,000 for Evaluation (with  Board of Supervisors Approval Tuesday) 

San Diego Foundation - $200,000 

Jewish Community Foundation - Nearly $175,000 

The Lucky Duck Foundation – $100,000 

The Conrad Prebys Foundation – $100,000 

Cushman Foundation – $50,000  

Funders Together to End Homelessness – $50,000                       

City of San Diego – $50,000